"Continuing the work of Jesus. Peacefully. Simply. Together."
Welcome to Our Church!   We invite you to look around and get a feel for our church. At Oakton Church of the Brethren we strive to welcome everyone as God has welcomed us.  Find Out More About Us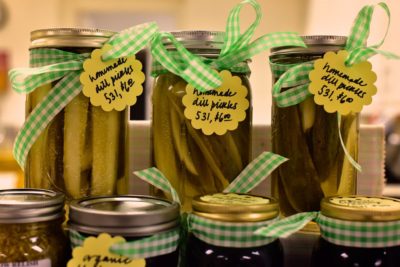 Oakton Church of the Brethren's 24th Annual Christmas Craft Show is a three-day event featuring a wide variety of handmade creations and craft supplies for purchase, plus a soup and sandwich lunch and bake sale. The event is a fundraiser for church projects.  There is no admission charge. Come browse around and find one-of-a-kind presents; cards, tags and gift bags; fall and holiday décor; kitchen accessories; ceramics; jewelry; soaps; baby and children's items; pillows and linens; scarves, hats and other attire; pies and cakes; yarn, fabric and sewing notions and more!
Shopping hours
Thursday, November 16th & Friday November 17th 10:00 am to 7:00 pm
Saturday, November 18th 10:00 am to 4:00 pm
Now recruiting crafters!
Crafter signups are now under way! The three-day show is consignment-shop style, staffed by church volunteers, freeing crafters to do another show that same weekend. Contact the church office for more information.
Contact office@oaktonbrethren.org or 703-281-4411
Worship With Us
Please join us this Sunday. We look forward to seeing you. Check our Worship pages for details or Get Directions.
9:15 AM — Fellowship Time (Sept-June)
9:45 AM — Sunday School (Sept-June)
11:00 AM — Worship Service
Sermon Audio Archive
Missed being with us for Sunday services?  You can listen to the Sunday sermon anytime.