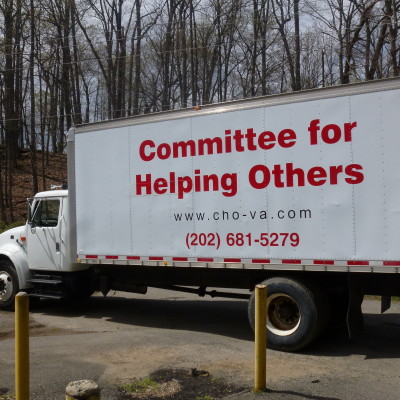 Oakton Church of the Brethren is proud to be one of the 35 churches and civic organizations that support the work of the Committee for Helping Others (CHO). CHO is an all-volunteer non-profit organization that has provided simple loving charity to the needy in the Oakton, Vienna, Dunn Loring, and Merrifield areas of Northern Virginia since 1969.
On Saturday, April 22, volunteers have an opportunity to help out with the Furniture Program. Meet at the furniture warehouse around 8:45 a.m. At this time, things should be wrapping up with the furniture give-away that occurs from 8:00 a.m. until 9:00 a.m. Then we jump in the CHO truck and make a delivery loop that includes five or six houses that have been scheduled in advance. We are usually done by noon. If you are interested in volunteering on Saturday, please call Karl Wilkerson at (703) 300-4415.
Special note on access to the warehouse: The town ​of Vienna ​will be re-paving Mill Street​. If you find you're not able to get to the property yard via Mill Street, try the Glendon Street entrance.  (Drive north on Glyndon; it ends at the property yard.  This entrance is usually kept closed, but ​it should  be open during the Mill Street reconstruction.)​ ​See the website for more information about the road reconstruction.
If you want to come an hour earlier on Saturday, you can help with the furniture give-away too. Although this is more than what is actually needed, it can be rewarding to meet the folks who are directly benefitting from our efforts. In addition to the above, our senior youth will be participating in the Brethren Exercise Program (also known as the CHO Furniture Program) on third Sundays. Activities include organizing the furniture warehouse, unloading the CHO truck, picking up donations from donors, and delivering furniture to clients.