Women's History Month 2017
Throughout the month of March, Oakton CoB will be highlighting the achievements of women who sought to lift up not only other women, but the cause of love, justice, and faith. Some are famous for their inspirational stories, and some are less famous, but no less inspiring. Who are the women who have inspired you to persevere? Whom do you look to as a role model in your life of faith? Who is your heroine of women's history?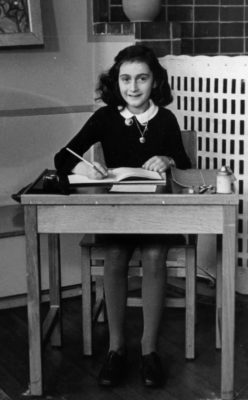 The story of Anne Frank and her family could have gone untold, just like countless stories of Jewish families during World War II. Instead, because of Anne's diary, she has touched the hearts of millions of people all over the world. Anne and her family were Jews living in Germany until Hitler's rise to power and growing anti-semitism made them feel it was necessary to move to the Netherlands. Once the Nazis invaded the Netherlands, it was not long before the family made the decision to go into hiding. They hid in the rear annex of the building housing Otto Frank's business. For more than two years, Anne's family lived with a few other refugees in the tiny space dubbed the "Secret Annex" while friends of the family assisted in smuggling food and supplies to them, all while business continued in the building below. During this time, Anne poured her heart out to a diary. When the family was betrayed and discovered by the Nazis in 1944, Anne was sent to Bergen-Belsen concentration camp, where she died of Typhus in 1945. Her diary, however, was rescued by one of the family's "helpers," Miep Gies. After the war, Miep returned the diary to Otto Frank, who published the writings so that that the world could understand the ravages of war, the pain of families torn apart, and lost dreams of little children. Today, The Diary of a Young Girl has been published in close to 70 languages.