"With my song I will praise the Lord" Psalm 28:7
Cherub Choir (Ages 4 yrs. To 2nd grade)
The Cherub Choir rehearses on Sundays during Children's Church, September through May. E-mail the  for more information.
Children's Choir (grades 3-6)
The Children's Choir currently meets during the Church School hour. For more information, contact .
Chancel Ringers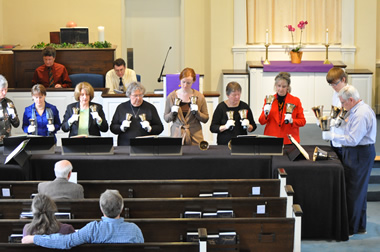 If you are interested in volunteering to direct the Handbell Choir, please contact Director of Music, John Shafer.
Chancel Choir
The Chancel Choir rehearses Sunday mornings from 9:00-9:45 am. The Chancel Choir provides anthems for most worship services. All voice parts are welcome. E-mail the for more information.
Ensembles
Various musical ensembles participate actively in worship at Oakton Church of the Brethren, including the youth ensemble, the bluegrass group, a contemporary string/vocal ensemble and others.  Members and friends of the Church are encouraged to participate, and these musical offerings are coordinated by .
Soloists, Instrumentalists, Organists and Pianists
We encourage you to contribute to our worship services. We also welcome our younger folks who play instruments to share their talent with us on Sunday mornings. E-mail the  for more information.